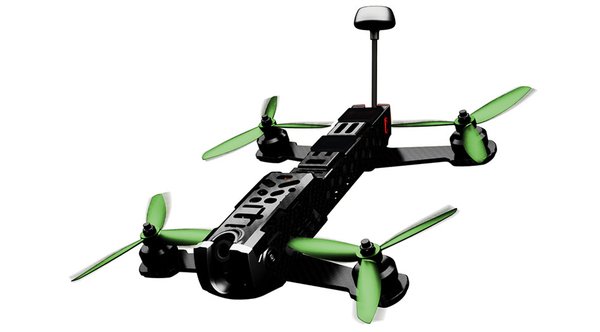 TBS VENDETTA
The TBS Vendetta is a tiny little quadcopter designed specifically for FPV (first person view) racing and freestyle flying. Today, you can find quite a few mini FPV racing drones that come ready to fly, but the Vendetta is the best option out there. It comes with almost everything you need to start learning to race. The only things that it won't come with is a controller, battery, charger and FPV video goggles, but in the world of drone racing you'll usually want to choose that stuff to fit your needs anyway.
Racing drones like the Vendetta are usually much smaller than camera drones like the Phantom 4, but don't let the small size fool you. The TBS Vendetta will easily reach speeds of 70mph and above when racing on a track, or over 100mph when doing nose dives down the sides of cliff faces.
There are a few reasons why we think the Vendetta is the best ready-to-fly racing drone, but the main reason is because it's designed well and all of the parts have great performance and quality. The Vendetta is a drone that's going to be hard to break, but if it does, no problem! It's one of the only drones that doesn't require a soldering iron when you need to replace components after crashing. This is a big deal for racing drones, because you're always crashing and repairing it at racing events, or even just at the park. Because of its modular design, you can also upgrade to bigger motors, add a high-voltage battery and instantly have a faster machine.
As far as price goes, it's about $500 (which is pretty normal for a drone this size with all of the features that it has). Availability for the Vendetta is not the best right now because it's new and high in demand, but if you ordered one today you could expect to have it in your hands within a month.