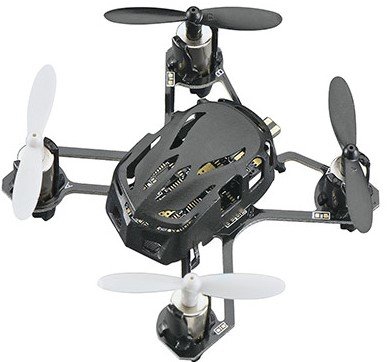 Protox X
The Proto X is one of the smallest drones for sale on the planet. It has 3 gyros, 3 accelerometers, 4 motor speed controllers and a radio receiver all shoved into a tiny PCB board about the size of a quarter.
The price for this little drone is only about $38. It's one of the cheapest quadcopters you can buy (but cheap isn't necessarily a good thing). It's very fast for how small it is, but at the same time since the rotors are so small and close together, people have found that it's a bit hard to do bank turns with it. Since the Proto X is so cheap, there is a chance that you could buy a defective one, but you can always just send it back.
I can't really recommend this quadcopter if you're serious about getting into the hobby, but it's definitely a good toy if you just want something to bash around the house.