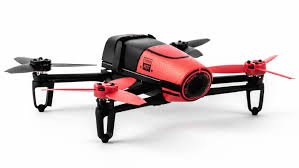 PARROT BEBOP
Just like the AR Drone, you can control the Bebop with your iPhone or Android device. But with the Bebop, there's an optional SkyController which will allow you to have real joystick controls, extended range, HDMI output and a few other cool things.
The Bebop has a lot of improvements over the AR Drone 2.0, but the most interesting feature is the video system. It has a 14 megapixel camera with a 180 degree field-of-view fisheye lens. Since the camera lens has such a wide field-of-view and a really fast processor, the Bebop is able to take the full 14 megapixel image, fix the image distortion (eliminating the fisheye effect), stabilize the image, then send the live video back to your phone. What all that means is that you'll be getting a digitally stabilized standard definition video feed straight to your phone. At the same time, It also records digitally stabilized 1080p video to the 8GB of onboard memory.
The Parrot Bebop is a really cool drone, but there's a few issues that I have with it. The first is that the video stream seems to have a lot of lag, making it unusable for really fast and precise FPV (first-person-view) flying.
The second problem is the price. The price for the Bebop is $499 USD. It's not a bad price, but you have to use your smartphone to fly it, which means that you won't have precise controls unless you buy the optional $400 SkyController (making it $899 USD total). A lot of people are also having reliability problems with the Bebop. Take this review from The Verge for example.