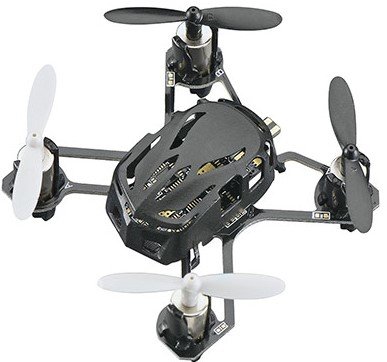 Parrot AR Drone 2.0
When the AR Drone 2.0 first came out, it was one of the coolest drones for sale on the market. It has a 1GHz 32 bit processor, 1GB of ram, gyros, accelerometers, magnetometers, a pressure sensor, an ultrasonic sensor, 2 cameras and more. Even though it's over 2 years old, the AR Drone is still one of the most advanced quadcopters available in its price range which is $299.
The biggest feature of the AR Drone is that it can be controlled from your iPhone. You can also see a live video feed from the phone screen and record video. It's even running Linux and there's an AR Drone open API platform, so you can program it to do whatever you want.
Like the other multirotors on the list, this is "not" a perfect quadcopter. The biggest feature of this drone is actually one of its biggest problems. The AR drone can only be controlled with your phone, meaning that you can't use a normal RC controller with real control sticks. That also means that there's no way to fly manually.
If you're planning on learning how to fly so you can operate a more advanced model in the future, you won't learn anything with the AR Drone.