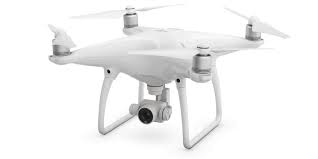 DJI PHANTOM 4
Right now, there are a ton of camera drones for sale, but the DJI Phantom 4 is by far the most innovative. It can fly super fast. It's very reliable. The HD live video streaming works better than any other drone out there. It's super easy to set up and use. The list of things that you can do just goes on and on.
The main feature of the Phantom 4 is the added 3D cameras and new computer hardware for mapping out environments in three dimensional space. This is what allows it to avoid obstacles and maneuver around them. However, features like obstacle avoidance aren't the only thing that puts the Phantom 4 above all the other drones out there.
From a design standpoint, the Phantom 4 is made extremely well. It's not the kind of drone where it just looks cool. Every part has been designed to be functional, but still elegant.
Recently, DJI has expanded their customer support team and now they even have DJI Care, which is like a damage protection plan for drones. With DJI Care, you can send your Phantom 3, Phantom 4, or even Inspire 1 to DJI and they will fix it for free even if the crash was your fault. If you want to know more about DJI care, check out the DJI Care article.
One of the best drones for sale right now is the Phantom 4. Here are some of the features that make the Phantom 4 my favorite video drone.
4K

Video

with 12 Megapixel Photos

HD

Video Streaming to your Mobile Device (over 4 mile range in good conditions)
Powerful Mobile App (just like the DJI Inspire)
Longer Battery Life (over 22-28 minutes)
Advanced 3D Vision Positioning for More Stable

Fligh

t
Front Facing Obstacle Avoidance
Active Visual Subject Tracking Technology
Quick Release Propellers
Free In-app

Flight Simulator

for Learning to Fly