DJI INSPIRE 1 WITH 4K RAW VIDEO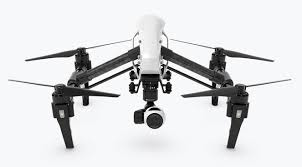 DJI INSPIRE 1 WITH 4K RAW VIDEO
Let me just start off by saying, if you ever get a chance to see this drone in person, you're going to want one for yourself. With a design that looks like it came from a sci-fi movie, the inspire 1 is the most professional ready-to-fly drone you can buy.
The DJI Inspire 1 is probably one of the most advanced quadcopters I've ever seen. There isn't much that the Inspire 1 CAN'T do. it comes standard with all of the features of the Phantom 3 Professional, but with a much bigger, cooler and higher quality design. It's almost twice as big and twice as fast as the Phantom 3 and with it's transforming design, the propellers will almost never be seen in your videos. Additionally, the Inspire 1 comes with a 4K camera on a 360 degree panning gimbal, which means that you can control the motion of the camera completely independently of the Inspire 1. This makes it great for dual pilot operation, but also for getting locked in shots in almost any wind conditions.
For Professional video use, the Inspire 1 comes in two other variants with superior image quality to even the most expensive aerial platforms in its size. If you need a high quality camera for shooting pro quality video The Inspire 1 Pro is a version of the Inspire 1 that features a micro-four-thirds 4K camera with 13 stops of dynamic range, interchangeable lenses and a sensor that's 8 times larger than the standard Inspire 1 camera. If you're looking for an even higher end solution, DJI will also be coming out with the Inspire 1 Raw, featuring a 500GB SSD and 4K Raw video recording for working in professional post-production environments.
I can't cover everything about the Inspire 1 in this article, but one thing that I will talk about is that this is not something that you would buy your 10 year old son as a gift. The Inspire 1 costs about $2900 and is mainly for people who want an amazing tool for aerial photography, videography, search and rescue, 3D mapping, or any other professional application. That being said, the Inspire 1 is actually one of the easiest drones to use and fly out there. So whether you have a real use for this drone, or you just want something that will impress all of your friends, the Inspire 1 is definitely something worth looking into.